Fong Perng International Corp.--Chain and rope accessories, pet products, dog harnesses, horse equipment, hardware
---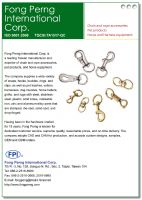 Fong Perng International Corp. is a leading Taiwan manufacturer and exporter of chain and rope accessories, pet products, and horse equipment.
The company supplies a wide variety of snaps, hooks, buckles, rings, and clips, as well as pet leashes, collars, harnesses, dog muzzles, horse halters, girths, and rugs with steel, stainless-steel, plastic, solid brass, malleable iron, zinc and aluminum-alloy parts that are stamped, die-cast, sand-cast, and drop-forged.
Having been in the hardware market for 15 years, Fong Perng is known for dedicated customer service, supreme quality, reasonable prices, and on-time delivery. The company adopts CAD and CAM for production, and accepts custom designs, samples, OEM and ODM orders.